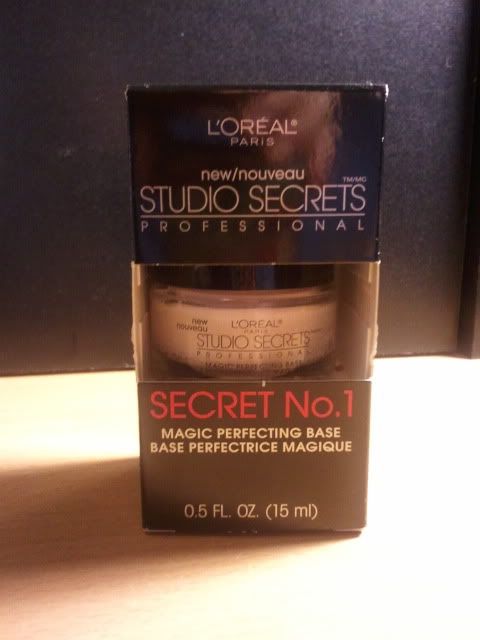 L'OREAL Studio Secrets Magic Perfecting Base
I bought this product at CVS back when they had a BOGO half off, and I also had a manufacturer coupon. I don't remember what I paid for it (and prices will vary depending on where you buy it) but you can pick it up for anywhere between $10-$15. This has become my favorite face primer. I would quickly call this a
holy grail product
. Have you ever used a product and it totally exceeded your expectations of it? For me, this happens rarely. (I can only think of a few off the top of my head that I have felt that way about ... in my entire life.) This was definitely one of them. I like it
that
much.
What the product claims: "Get the perfect skin texture, instantly and all day. 1. Smoothes lines, 2. Hides Pores, and 3. Banishes Skin Imperfections. The silky lightweight formula glides onto skin, leaving it velvety-smooth to the touch. The result- a unified matte finish that's flawless. It says it is suitable for all skin types, dermatologist tested, and non-comedogenic." ...and it really delivers.
The best thing this primer does for me, is INSTANTLY diminish the appearance of my pores. I think I have large pores and I HATE the way foundations and concealers settle into them. That is a horrible look. When that happens, the only thing I can do to fix it, is wash my face. This primer is so silky on your face. It does also fill in some fine lines I have around my eyes and forehead. I honestly can't say that I have noticed a change in how long it makes my makeup last, but I definitely know that it makes it look better. I would even wear this WITHOUT any other makeup and it would make a difference in the way my skin looks.
I highly recommend this product. If you have large pores, I suggest you run to the nearest place you can buy this product because you won't be sorry. I have already purchased two backups myself. I absolutely love it and can't say enough about how it performs.