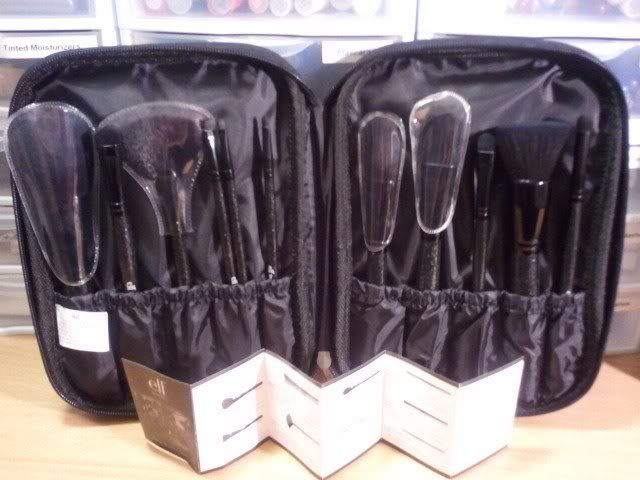 I figured since I mentioned this brush set in my last post, I would go ahead and review it. I LOVE this brush set! I purchased it
here
at the elf (eyes lips face) website. The price is $30, however, I got mine at a 50% discount so I only paid $15! They have coupon codes ALL of the time, I think they have a new one every week. If you sign up to receive their newsletter, they will send you new coupon codes when they become available.
Here is what is included in this collection:
Sleek, water-resistant case
Eyeshadow "C" Brush
Complexion Brush
Small Angled Brush
Small Smudge Brush
Fan Brush
Powder Brush
Angled Foundation Brush
Concealer Brush
Small Precision Brush
Blush Brush
Contouring Brush
It also comes with a little folded pamphlet that shows pictures of each brush and what its intended use is, which is great for those just starting out with makeup and brushes. The set that is offered now has matte black handles, but I got mine in limited edition black glitter! I do have some of the ones with the matte black handles too, because I have back-ups of many of these brushes. If you purchase these brushes separately, they are $3. All of the products from the studio line are $3. How exciting is that? What is even BETTER is that they have an Essentials line (which does have some really great products in it) and everything is only $1. One of the best things about these brushes is that they are all made with synthetic bristles, which means you can use them for liquid or cream products without worrying about damaging them (like you would if you used those types of products with brushes made of natural goat hair.)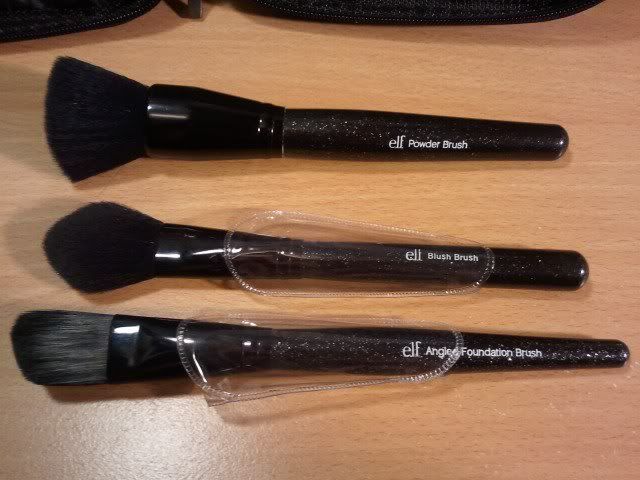 Powder Brush, Blush Brush, & Foundation Brush
In my opinion, these are the stars of the show. The flat-top Powder Brush is an amazing brush. It has been compared many times over to the MAC 187 (which is a duo fiber stippling brush.) The reason is, this brush applies foundation flawlessly! It can be used for anything you want to use it for, really. The Angled Foundation brush is so great because the shape allows you to get into the crevices of your face (like around your nose) much easier than a regular-shaped foundation brush. I never get streaky lines when using this brush. (There is a trick to that: When applying the foundation, "paint" it on your face until the product starts setting and it becomes harder to use the "painting" motion, then you should "pat" to avoid any streakiness.) Finally, the blush brush has a very unique shape: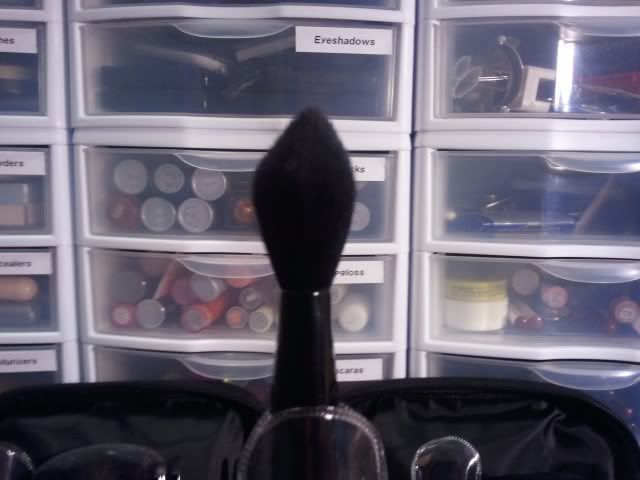 Side view of the Blush Brush
The tapered tip allows you to place product EXACTLY where you want it, yet it is still easy to blend with. It is a little on the small side for a blush brush, but if you give it a try, you will see it is actually the PERFECT size!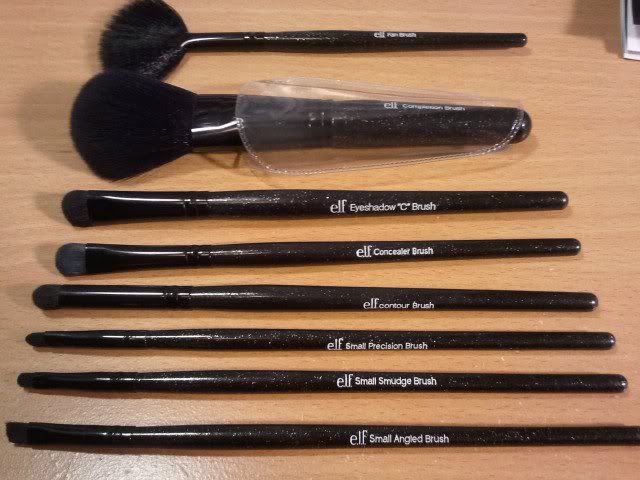 These are the rest of the brushes in the set. I don't have anything bad to say about any of them! They really are good brushes and I think if you use brushes, you should give these a try. The Small Precision and Small Smudge Brushes are so good for detailed work in the tear duct area and under your lower lashes. They work great for creating a smokey eye effect. The Contour Brush is a great size with the just right amount of density to place shadows right into your crease, or for cut crease looks. I use the Small Angled Brush for filling in my eyebrows and for gel or cream eyeliners. (I actually have two, one for each purpose.) The Complexion Brush is very flexible; I use it to sweep a color correcting powder over my face. I think it would work well for any finishing powders you want to use. The only brush I don't get any use out of is the Fan Brush. It can be used to sweep away eyeshadow fallout or it would be good for high definition powders (that are very finely milled.) The Concealer Brush is a little too dense for my preference. I last used it to apply a white eyeshadow base and it soaked up a lot of my product and I had the toughest time getting it clean. (You can still see that it looks whiter than the other brushes.) Lastly, the Eyeshadow "C" brush is a good brush for packing color on your lid, it's just an overall good eyeshadow brush. I honestly prefer the natural hair $1 elf brush and have quite a few of those!!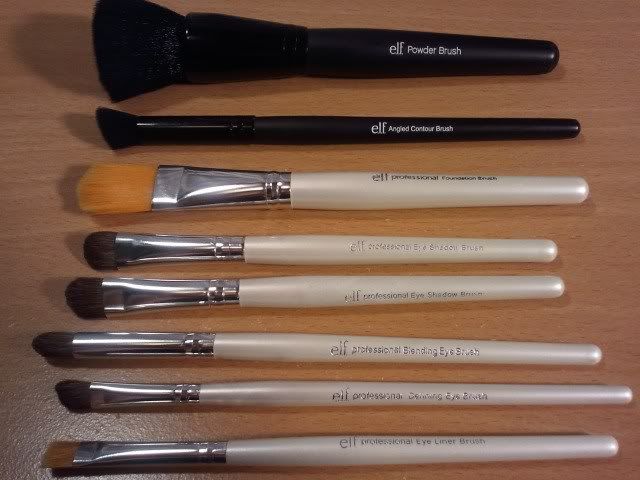 These are some of the other elf brushes I own, including the black matte handled Studio brushes
The Angled Contour Brush (second from top) is almost like a mini version of the flat top brush (without being flat.) It is great for setting your concealer with powder or blending out your eyeshadow. I have two of the $1 Eyeshadow Brushes there in the middle (all of the $1 brushes have white handles.) I have a few more stored in their packaging. You can actually find these brushes at Dollar General. They have also started selling elf products at Kmart and Target. I have only seen the Studio line products at Kmart. Otherwise, you have to buy online. Like I mentioned before, you can always wait for a coupon code and get most of your items for half price, sometimes even better than that!
Overall, you just can't go wrong with this brush set. I am definitely glad I purchased this product, and I will CONTINUE to buy from elf cosmetics! I have tried nearly ALL of the products on the website, so if you check them out and have any questions, please feel free to ask me! I will probably review some elf products in the future, not everything on the site is a complete hit, some are actually misses. But, for $1-$3 it isn't such a blow to your wallet to give them a shot.