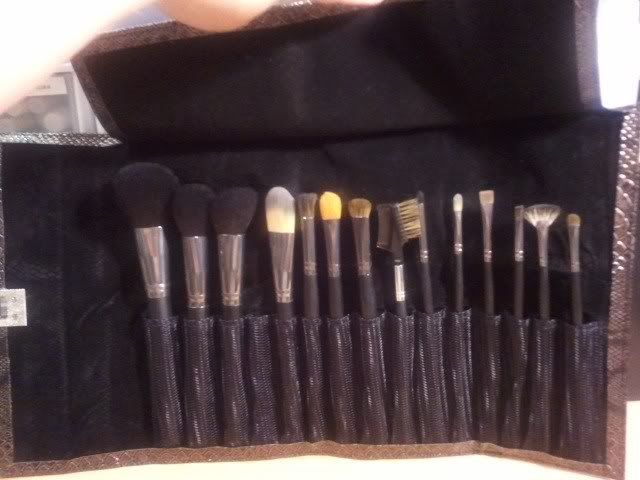 15-Piece Professional Brush Set w/ Designer Case

I purchased this brush set from Crown Brushes after watching Kandee Johnson's review on YouTube. Unfortunately, I missed out on the special price that was offered to her subscribers, so I paid $43.99 plus applicable tax & shipping. As of today, they are offering a 15% off sale which would make the price $37.39 (plus applicable tax & shipping.)
The set comes with the following brushes:
Chisel Powder

Chisel Blush

Angle Blush

Foundation

Angle Blender

Oval Shadow

Blending Fluff

Flat Liner Concealer

Lash Fan

Brow/Lash Groomer

Angle Liner

Oval Lip

Mini Smudger

Round Crease

Faux Reptile Case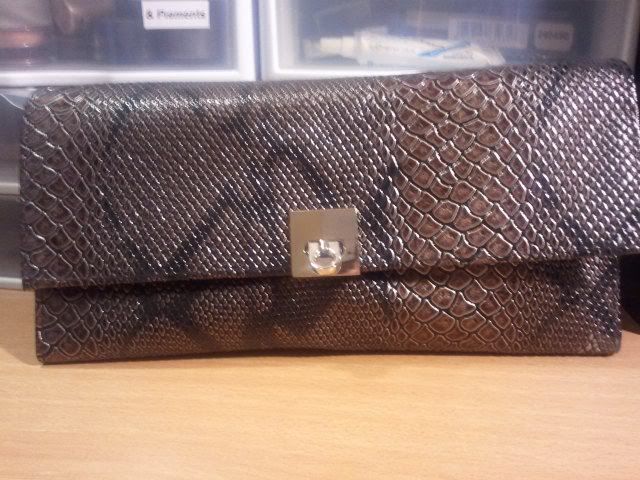 I ordered mine in model 621, which has the bronze faux reptile case, and the brushes have black handles and bronze ferrules. You can also choose model 620 with a reddish faux reptile case, and the brushes have black handles and black ferrules, as well as model 619 with a black faux reptile case, and the brushes have red handles and black ferrules. As of today, models 619 and 620 are sold out.
When I received my brushes, I was surprised to discover that I already had the Chisel Blush brush in my collection. I had purchased it at coastalscents.com, and it came with a silver ferrule, but other than that it was the SAME brush. I later heard that Crown Brush supplies Coastal Scents with some (or all) of their brushes. I don't know if that is true or not. Anyway, the blush brush I had was not one of my favorites. (In fact, I have given it away.) The bristles were not very soft when I first used it, and they had become even rougher over the year that I had owned it.
In my opinion, this is also the case with most of the face brushes in this set, specifically the Chisel Powder, Chisel Blush, Angle Blush, Angle Blender, and the Lash Fan. My lashes don't mind the roughness so much, but my face and my eyelids do! The roughest one is the Angle Blender (which is for blending your eyeshadow) so that one doesn't get any use. The Blending Fluff is softer, but it sheds like CRAZY. I do not prefer the shape of this blending brush at all. It is flat and tapered, so the only thing I would use it for is highlighting my browbone. The Lash Fan I just don't use at all, maybe I just haven't discovered the best way to use it. I have so many Brow/Lash Groomers, so I don't have much to say about this one because I think they are pretty much all the same.
The rest of the brushes I like much better. The foundation brush is SUPER soft. It is, by far, the nicest foundation brush I own (between Elf, Coastal Scents, & Lancome.) The Oval Shadow brush is great for packing color on the lid, or even on the browbone. It is larger than a standard eyeshadow brush, but not as big as the one from the Pink set that you can buy at either Coastal Scents or Crown (they too, are exactly the same brushes.) I have that set, and all the eye brushes are HUGE.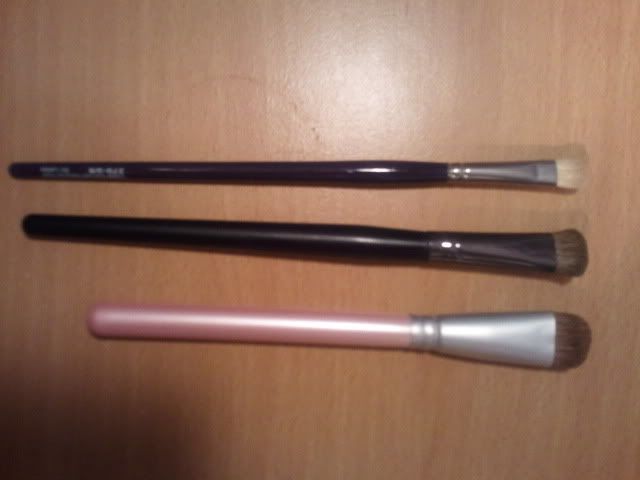 Here I compared the Oval Shadow (middle) with the Loew-Cornell shader (top) and the Pink shader (bottom)
Then, the Round Crease, Oval Lip, Angle Liner, Flat Liner, and Mini Smudger are all AMAZING little brushes that I find myself reaching for all of the time. I can't find one negative thing to say about them. The case they came in smelled REALLY bad (strong & chemical-like) when I got it. I left it outside on the banister of my deck for about 24 hours so it could air out, then it was fine. I don't store my brushes in it, but it would be nice to use for traveling. I think that after a lot of use it would break down easily, because when I pulled it out of a drawer (for photos) I noticed that when unfolding it, the material was stuck together in some places, and little pieces pulled off.
The little white spots are the places where the material came off.
Overall, I can't say that I am pleased that I bought this set. I do use the Angled Blush brush sometimes (out of all the brushes I dislike.) I also own the Elf Studio Brush set (which I purchased for $15 during a 1/2 off sale) and honestly, I like those brushes much more than these. The Elf set is regularly $30, so if you can catch a sale on those, I would recommend that set over this one. Thank you for taking the time to read this review, and if you have any suggestions for other product reviews, please let me know!