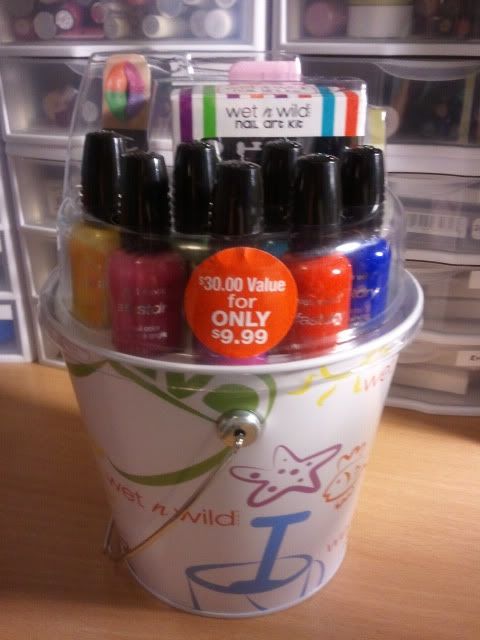 Wet n Wild Fastdry Nail Polish Bucket Set
If this isn't exciting, I don't know what is!! I had my eye on this set at CVS for weeks. I should have bought it when they had the BOGO half off sale. But it was still a steal at $9.99, considering it includes 7 nail polishes that retail for $1.99 each. I used my $7 extrabucks (for buying $15 in Revlon products) so I only paid $3 for it!! You also get this super cute bucket (that has now become a new home for some of my makeup brushes!) along with a nail file, toe separaters, and a nail art kit. The kit includes some stencils and a white polish with a super fine tip.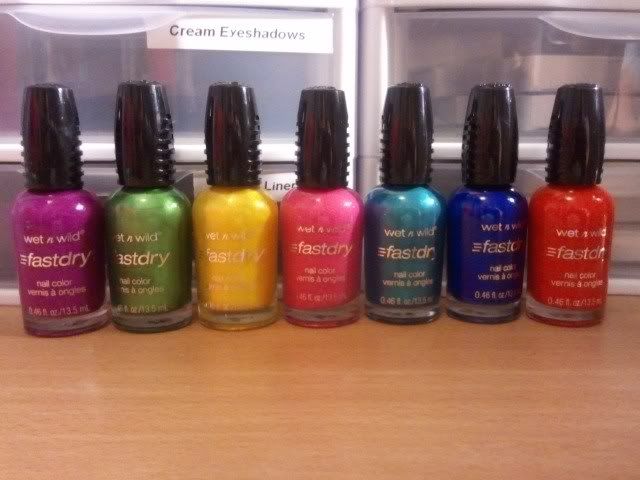 The colors are AMAZINGLY pigmented , beautiful, and bright. Perfect for summer! The names are so neat, they are all from T.V. shows! (From left to right) They are: Fucshia Rama, Sage in The City, The Wonder Yellows, How I Met Your Magenta, Teal or No Teal, Saved By The Blue, and Everybody Loves Redmond. How adorable is that? I really love these nail polishes. The quality is excellent and with most of them you only need one coat and then they are completely dry in a couple of minutes! Even if you don't use a topcoat, they have awesome staying power. They have a new set out now called "Mermaid's Cove" and those are just as beautiful. (Think pastel shimmer!)
Like I said before, I am using the bucket for my makeup brushes. I need to get some fillers for the bottom because my brushes are all just peeking over the top, but I just love how fun the design on the bucket is & it brings some color to my makeup area (that is primarily black and white.) The stencils are cute, but I haven't tried them yet. You don't have to just use the white polish that came with it, you can use the Art Deco polishes that you can find at the Dollar Tree for $1 that come in an array of colors. (I have red, black, hot pink, baby pink, white, and silver glitter.)
I remember when I was younger that Wet n Wild was just that brand that most teenagers used because it was only $1. I think the quality then was a "you get what you pay for" kind of thing. Today, Wet n Wild has come a long way. I don't think there is any one product that I haven't tried, and the quality of every item is
comparable to any other good quality product you can buy in the drugstore
. Yet they are
still
the most inexpensive. Their eyeshadows are a different story. I would compare the quality to many
high end brands
. I am working on a dupe blog/video (with swatches) comparing them to Urban Decay eyeshadows (which are among my favorite eyeshadows.) I have found a Wet n Wild dupe for
every
color in the infamous Urban Decay Naked Palette! They are every bit as buttery soft and pigmented as Urban Decay. In some cases, the WnW dupe is
better
than its Urban Decay match. But that is another blog to lookout for soon!